Neutral Gases Conditioning Equipment
Neutral gases conditioning, whether performed with helium, nitrogen gas or any other gas, enables the interior of cryogenic subassemblies such as cryostats or cold equipment to be prepared before being permanently sealed (e.g. by tailing).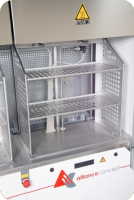 This preparation is meticulous, and must be fully mastered in order to guarantee an optimal level of consistent performance throughout the lifetime of the sensors. These very specific applications concern mainly applied research, R&D laboratories as well as the Defence/Military industry and Space Optics sectors.
Alliance Concept has the expertise to provide packaging machines that enable accurate, controlled and reliable operations. Our tailor-made machines will support you in your clean room for an optimized production process and production rate.