Nitrogen shrouding of food steel tanks and containers oxidation is an essential step to prevent oxidation of its contents (deoxygenation).This step is usually performed in a nitrogenisation chamber.
This is particularly the case for vitamins and powders containers in general,or even wine (or grapes) containers in the wine industry.
This inerting system makes it possible to make a primary vacuum and to process several containers simultaneously. Nitrogen pumping and pressurization cycles are automated and managed by an automated system.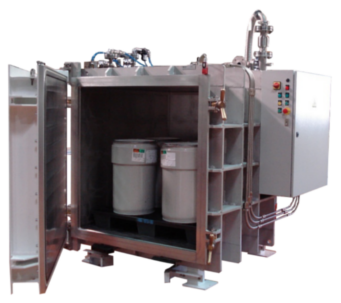 Key Assets:
High capacity
Ergonomics of use
Outstanding usability of critical constituents
Process Automation
Simplicity
Efficiency
Quality of vacuum components and mechanics
ATEX configuration
[1] These values are measured on real manufactured equipment and are given for a guidance as they depend on the final configuration of each equipment. Limit vacuum after bake-out.
Configuration example
Chamber Volume
1800 litres
Chamber vacuum limit (turbo pumping)
30 mbar[1]
Heat Chamber Heating
Heating rings with upper airflow
Nitrogen Pressurization
Overpressurization (>Patm)
Automatic Equipment Control
1- Simple version with PLC/LCD display
Independence of heat chambers
2-Touch-sensitive screen version with full machine control with real-time dynamic synoptic, operator/maintenance/methods access level, event log, etc.