Alliance Concept is a supplier of high-end turnkey PVD equipment. The development and the production of Thin Films Deposition frames is one of our main activities.
We are experts in physical deposition (PVD: Physical Vapor Deposition), whether by:
Magnetron Cathode Sputtering
Diode Cathode Sputtering
Vacuum evaporation by Joule effect
Vacuum evaporation by electron gun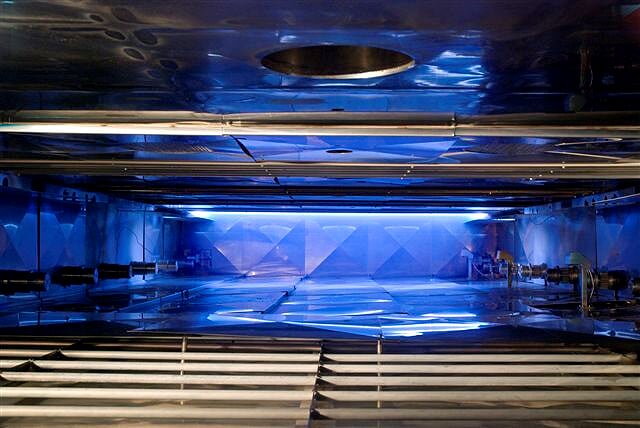 More than 80% of our PVD thin films deposition equipment are installed in clean rooms. In terms of thickness, the thin films deposited are below the micron in the nanometer range. We also carry out PECVD (Plasma Enhanced Chemical Vapor Deposition) frames, being at the limit of chemical or CVD deposition (Chemical Vapor Deposition), a complementary technology.
Cathode Sputtering
The principle of this technology lies in the creation of a glow discharge between two electrodes. This discharge, carried out within a rarefied atmosphere, under vacuum, allows the making of a plasma composed of charged particles (electrons, ions, photons) and neutrals (atoms). The electric field generated by the difference in potential induces a movement of positively charged particles that are attracted by the cathode (target) and collide with it. This bombardment causes the sputtering of atoms or aggregates of atoms from the target which will condense on the substrate. On a macroscopic scale, this physical phenomenon could be compared to a "billiard breakage". In order to have an effective sputtering rate, the plasma gas used for this technology is the argon gas. Its atomic mass, its neutrality (complete valence shell), as well as its cost are ideal.
The main steps are:
Collision of incident ions on the target resulting in a transfer of kinetic energy and motion amount.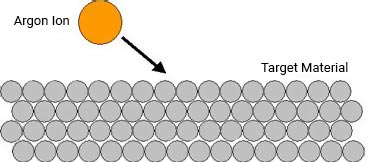 Emission of atoms or aggregates with a given kinetic energy that settle down on the substrate and become a thin film of target material.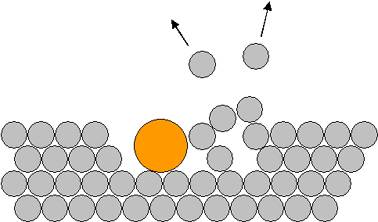 This technology, commonly used in the industry of thin films for the semiconductor industry, sees its number of applications increase.  Being a clean technology, it is a realistic and practical alternative to wet treatments.
The great majority of this type of PVD equipment uses magnetron cathode sputtering technology.
Vacuum Evaporation
Unlike magnetron cathode sputtering or diode cathode sputtering which is based on a mechanical principle of atomic bombardment or more exactly ionic bombardment, vacuum evaporation is based on a thermal principle. Thus, the heating allows the material to reach its melting point first and its evaporating point in a second time.
Vacuum evaporation is based on two basic processes: evaporation from a heated source and condensation in the solid state of the evaporated material on the substrate.
The heating of the material can be generated by several techniques:
Joule Effect Evaporation: A one-hundred-ampere electric current goes through the material to be evaporated
Evaporation by Electronic Bombardment (electron gun evaporation)
Evaporation by effusion
These technologies enable to control in a very precise manner the deposition thickness. They are also very reproducible and extremely clean. No effluent or anything else comes out of the equipment.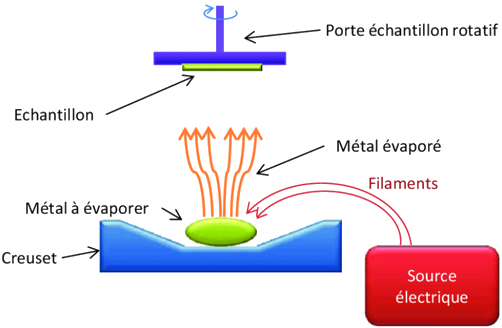 More about the Thin Films Deposition
Why work under vacuum?
The deposition of pure materials can only be carried out in a rarefied atmosphere, without other elements with which they could recombine. In fact, if we try for example to make a metal deposition at atmospheric pressure, this would lead to the growth of a metal oxynitride film deposition of this metal given the presence of dioxygen and nitrous oxyde in the air.
Can all types of material can be deposited?
Metal materials, ceramics, oxides, nitrides, etc., can be synthesized with these technologies. By combining the sources, it is also possible, under certain conditions, to make all types of alloys (binary, ternary, see more).
Sizes features:
| | | | |
| --- | --- | --- | --- |
| Technology | Incident Particles Speed | Work Pressure | Incident Particles Energy |
| Cathode Sputtering | 4 to 10 km/s | 5.10-3 – 10-2 mbar | 4 to 50 eV |
| Vacuum Evaporation | 1 km/s | 5.10-4 – 5.10-3 mbar | 0,2 eV |
These quantities can help to determine whether it is preferable to use a particular technology for a given application.