CLUSTERTOOL, Thin Films Deposition Cluster
The clustertool range is our latest system of thin films deposition. It is the result of a 25 year-experience in the design of special PVD equipment.
The main element of the machine's architecture is the Vacuum Transfer Robot developed by Alliance Concept Engineering Department. The maximum capacity of the robot is a 300mm diameter substrate with a weight of 1.5kg. Chambers with isolation valves are placed around the robot to remove the particle contamination between modules.
We have studied and realized various configurations to be able to work with sputtering coating chambers: a PVD configuration and/or an evaporator configuration. Finally, a port is dedicated for the loading and unloading load-lock.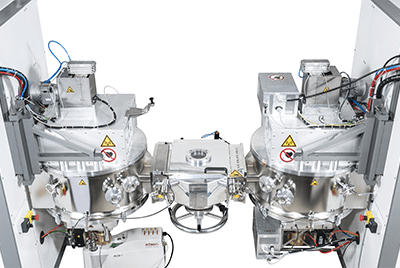 This PVD cluster is able to provide a high-quality multi-chamber clustertool system, at a controlled cost which will adapt to the tightest budgets. The equipment consists of two modules based on our best-sellers' designs, the DP650 system or the AC450 system, isolated from each other by a load-lock allowing a near-zero particle contamination.
The CT200 is one of the most advanced clustertools of its generation. With an experience of 25 years, it is the latest tool for thin films deposition.
Versatile and scalable equipment intended to be installed in a clean room, this PVD cluster is based on a central transfer chamber equipped with a reliable and safe vacuum robot of our design. From this chamber, the substrates are distributed to the different process modules. This machine can be made up of different modules up to 6, around a transfer chamber.
CT100
CT200
Load-Lock Chamber
Manual
Automatic single plate
or semi K7

Coating Chamber
AC450 and/or DP650
AC450,DP650,DP850,RIE,EVA or tailor-made
Usable Coating Surface (mm)*
Ø200
Ø200 and Ø300
Coating Surface Uniformity
± 2%
± 2%
*Usable coating surface given as an example