Together with the cryostats, cold equipment make-up infrared sensors. Those cold machines, whose design varies according to the ranges and applications, are conditioned for their final use as chillers.
This equipment is ergonomic and perfectly meets the requirements of the different preparation modes according to the ranges of cold machines.
It is thus possible to prepare a product by degassing it thermally, under vacuum steaming or even by conditioning it in the open air. In fact, each vacuum steaming or conditioning line is autonomous!
Key Assets:
Operator's safety (set of light barriers)
Ergonomics of use
Optimized compactness
Easy maintenance at front
Automation: heat chamber lifting, process (pumping, steaming bake-out, pressurization,etc).Range management systems by Recipe
High flexibility of settings
Quality of vacuum components and mechanics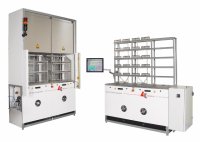 Heat chamber Volume:
250 litres
Equipment Capacity:
40 products
Vacuum limit of the parts (turbo pumping):
<10-4 mbar[1]
Heat Chamber Heating:
Heating rings with upper airflow
Power Supply of the parts:
One connection available per product
Automatic Equipment Control:
– Touch-sensitive
– Independence of heat chambers and lines
– Full machine control with real-time dynamic synoptic, operator/maintenance/methods access level, event log, etc.
[1] These values are measured on real manufactured equipment and are given for a guidance as they depend on the final configuration of each equipment. Limit vacuum after bake-out.