Vacuum furnaces for degassing X-ray tubes or others specific sensors
A reliable and robust equipment is required for vacuum tubes such as X-ray tubes, klystrons or Travelling Wave Tubes (TWTs).
This degassing equipment is able to process up to 4 parts in a batch. The parts and the vacuum chamber are pumped and supplied with nitrogen.
Main Features:
User safety
Ergonomics of use
Process Automation
Ease of use, ease of process
Efficiency
Quality of vacuum mechanics & components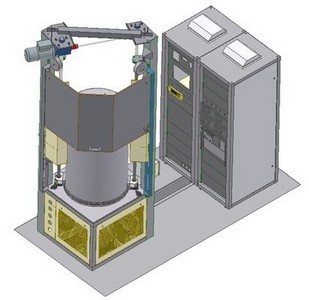 Vacuum Chamber Diameter
600 mm
Volume
240 litres
Equipment Capacity
4 parts
Ultimate vacuum in the chamber (turbomolecular pumping)
10-5 mbar[1]
Ultimate vacuum in the parts (turbomolecular & cryogenic pumping)
10-10 mbar[1]
Vacuum Heaters
Resistive heaters
Tubes Power Supply:
Multiple, through the wall connection
System Controller
-Touch-sensitive
-Realtime animated diagrams, various levels of access, (user, process, service), events log, process parameters recording…
[1] These values have been recorded on a manufactured system. They are given for information purpose and are directly linked to the final system configuration (parts to be degassed, pumping components).