Residual Gas Analysis System
This equipment of residual gas analysis is a robust partner for all processes that require a degassing step with analysis of the residual gases.
Its optimized cost, its simplicity, its rational design and its ergonomic loading from the top of the equipment are all assets for your production or your research laboratory.
This equipment has been designed and developed to meet several requirements:
Reduced compactness
Ergonomics of the operator's work station
Easy maintenance
Manual loading from the top of the equipment
Automation of the pumping process
Simplicity
Efficiency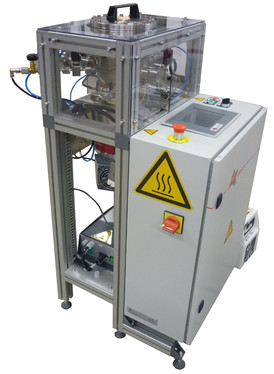 Chamber Diameter:
150 mm
Parts' vacuum limit (turbo pumping):
< 10-7 mbar[1]
Heating:
Reinforced stiff collar
Mass Spectrometer:
e.g. Pfeiffer PrismaPlus™ QMG 220
Equipment Capacity:
e.g. Stainless steel multi-stage substrate rack for 50×50 substrate
Load-lock chamber:
Possible (contact-us)
Automatic Equipment Control:
– 6.5″
– Pumping Cycle
[1] These values are measured on real manufactured equipment and are given for a guidance as they depend on the final configuration of each equipment. Limit vacuum after bake-out.