Cryostats Degassing Heating Chambers
The preparation of cryogenic systems requires a high degree of control of bake-out, pumping and nitrogen circulation cycles.
This equipment meets the highest requirements in terms of homogeneity of heating and pumping.
With its 6 heating chambers 100% independent of each other and its maximum capacity of 15 products per heating chamber, this system meets an industrial need for the production of cryogenic subassemblies, e.g. cryostats.
Key Assets:
Operators' safety (set of light barriers)
Ergonomics of use
Optimized compactness for reduced laboratory surface area
Easy maintenance
Automation: heating chamber lifting, process (pumping, bake-out, nitrogen flush, etc).
Efficiency
Quality of high-vacuum components and mechanics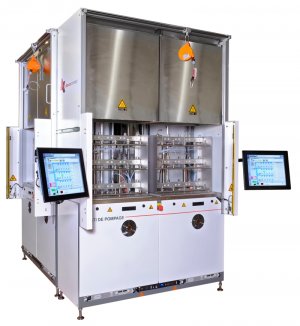 Heating chamber Volume
250 litres
Equipment Capacity
90 products
Vacuum limit of the parts (turbo pumping)
<10-4 mbar[1]
Chamber Heating:
Heating rings with upper airflow
Power Supply of the parts
One connection available per product
Automatic Equipment Control
– Touch-sensitive
– Independence of heating chambers
– Full machine control with real-time dynamic synoptic, operator/maintenance/methods access level, event log, etc.
[1] These values are measured on real manufactured equipment and are given for a guidance as they depend on the final configuration of each equipment. Limit vacuum after bake-out.