The explosive growth in communication tools is a true windfall for thin film technologies.

Smartphones, tablets, computers, hard drives, flash memories along with LCD screens are technological gems that benefit from miniaturisation.
The Moore law explains this progression.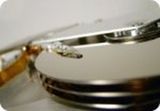 Nowadays, the density of transistors per unit area quadruples every three years. This race to miniaturisation that has taken place over 40 years does have a limit.

Indeed, it is forecasted that in 2020, photolithography will reach its limits with patterns down to 10 or 15 nm. At this scale, quantum phenomena will disturb the proper functioning of electronic equipments.

Nanotechnologies are the future.



From 2 to 4 inches up to 200 and 300 mm wafers, Alliance Concept can provide complex systems combining several technologies thanks to the CT200, our multi-chamber platform.

The CT200 is the ultimate tool in terms of versatility and particulate contamination.




[grisAC]For this field of application, we recommend the following equipment(s) :
CT200 , EVA760 , AC450 , DP850 [/grisAC]