INERT'N2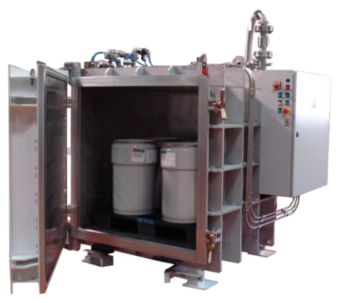 Inerting airtight food barrels or in general food containers is a key-process in order to prevent oxdation of the content (deoxygenation).
It is for example the case for vitamins, dietary supplements, powders in general or even wine casks or any beverages.
Our nitrogen inerting system can be used to treat several containers at the same time. Pumping (rough vacuum) and nitrogen pressurising cycles are performed automatically (CPU, electro-valves).
Main advantages :
Large capacity
Ergonomics
Excellent accessibility to main components
Automation (automatised process)
Simple to use
Efficiency
Quality vacuum mechanical parts and components
ATEX configuration



Example of technical configuration

Volume of the vacuum chamber :
1800 litres
Ultimate vacuum (rough vacuum) :
30 mbar[1]
Nitrogen pressurising :
Overpressure (>Patm)
Process automation :
1) Simple version with CPU and LCD display
2) Version with touch-screen panel, dynamic synoptics, full touch control over machine active components, access levels (operator, maintenance...)
[1] These values have been measured on machines we have already delivered and should be handled as information only. The features of a system depend on its final configuration.