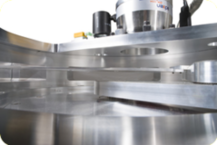 Alliance Concept's expertise does not only benefits to thin film deposition systems or helium leak detection machines.
Indeed, for over 25 years, we've been working together with our customers throughout innovative projects in order to deliver state-of-the-art special machines, that require expert know-how in terms of vacuum technology and science.


We deliver, amongst others, machines for:
We integrate any kind of mass spectrometers for RGA, including Pfeiffer (PrismaPlus™ QMG 220) and Inficon (Transpector range).
[grisAC]You have a project for an equipment using vacuum technology? Get in touch with our team to dicuss about our technical solutions Contact us