Retrofit
Owing to our automation design office, we are able to propose retrofit or upgrades on the control system of your thin film deposition system. Since the creation of the company, our philosophy has always been to develop our own man machine interface (MMI). This strategic positioning allows us to offer retrofits for your equipments. It is very common to meet major issues on equipments because of the obsolescence of the machine controller. The solution we propose is to make a global analysis of the tool to determine the obsolete parts and, in a second step, to sep up an up to date global system controller.
Thus, after an on-site expertise with you to define the operational framework, we realize studies in workshop and the components for our intervention. The aim of this intervention is to limit system downtime and any inconvenience caused.
Naturally, the complying with electrical regulations is also one of the the guidline of this operation.
According to the cases, retrofitting can be made either on customer site or by repatriating the system in our factory. Our technical experts are able to answer to all of your questions owing to our accumulated experiences. Retrofit can therefore sustaining your machine but can also be the opportunity to install new functionalities.
Why upgrading a system ?
Sustaining the system by replacing obsolete components,
To take advantage of new features by replacing the control systems,
To extend lifetime of a major tool in which a key-process has been developed,
Compliance with new regulations (electrical level security),
To reduce maintenance costs,
To improve system up-time (reduction of system failures),
Etc.
Objectives
To replace all obsolete components,
Wiring of subassemblies according to standards,
To provide a man-machine interface in perfect accordance with the customer needs,
To limit equipment downtime during on-site operation.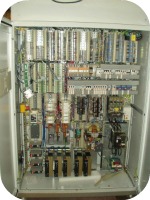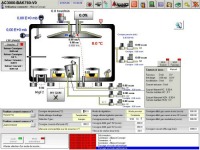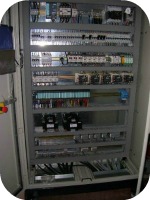 We have realized system retrofits for the following systems :
ALCATEL SCM, RIE, GIR,
BALZERS BAK 550, 640, 760, SCS 800, SCS 1100,
GALILEO,
NEXTRAL ND 400,
LEYBOLD H700, Z550, Z1100,
SATIS,
TEMESCAL,
VARIAN,
And many more.