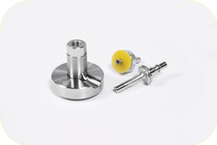 Quick connectors are part of daily life. They are used by each and every one every day, being actively or passively.

Every Industry, from Automotive to Aeronautics and Space to Industrial refrigeration to Medical to Nuclear etc. use several kind of quick connectors.
These connectors and fittings play a key role in distribution of :
Compressed gases such as air (blowguns, air feeding to electro-pneumatic valves feeding...), Nitrogen, Helium, Compressed Natural Gas (CNG), Liquefied natural gas (LNG) etc.,
Coolant (refrigerant fluids, R134A for instance),
Gasoline, diesel fuel,
Breathing air,
Hydraulic fluids,
Any other fluid being gas or liquid that needs a clean and tight distribution !
In fine, it doesn't matter which kind of quick connector, connectors and fittings are controlled in production phase to detect any leakage that would lead to a safety concern for operators and users and for the installation itself.
In this matter, leak detection using helium tracer gas technology (helium leak testing), being the most sensible test method because of the use of a mass spectrometer, is THE reference technology to test and control quick connectors !


[grisAC]For more information, download our information flyer (PDF file) :
Helium leak testing for connectors [/grisAC]

Thanks to over 25 years of experience-gathering and close collaboration with the Industry of tight connectors, Alliance Concept design and supply high quality leak testing machines, that are ergonomic and customised to fit perfectly to your style of production (optimised throughput, simple/double/triple working stations, couple and decoupled test, support for right-angled connectors etc.).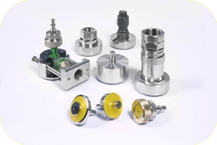 Some out of the many advantages of our systems :
Well thought ergonomics,

Fully automatic coupled / decoupled to test a quick connector alone and coupled to its butt,

Support for right angled connectors,

Industrial and efficient human machine interface,

Excellent throughput thanks to low volume test chambers.