[rougeAC]Who's concerned ?[/rougeAC]
Probably each and everyone has already heard one day about tightness, for instance water-tightness or else while talking about sealing. Thousands of products manufactured for and by any Industry have at least this common feature : tightness to a fluid, e.g. gas or water. An injection pump couldn't serve its purpose if not tight to fuel, an oxygen tank wouldn't be safe if not gas-proof. What about a leaking air-con hose ?

Now, what about "leak testing" or "tightness validation" ? How is the "leak rate" quantified ? Which products can be tested ? What type of equipment do I need ? These are most certainly some of the questions you are asking yourself if you're here.

That's easy, let you follow the guide ! Alliance Concept provides leak testing solutions for all your parts, from the tiniest to the largest, from the simplest to the most extricated. We develop and manufacture our own solutions, from the mechanical design to the software.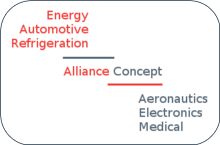 You are global suppliers and actors of challenging industries such as Automotive, Energy, Refrigeration, Electronics, Aviation industry, Connectors or Medical ?

For instance, you are developing and/or manufacturing injection pumps, injectors, fuel tanks, aircraft brake pistons, compressors, connectors, gas meters, electrical equipment such as switch gears, battery packs, ultracapacitors, HP valves ?

Leak testing is then one of your concern !

[rougeAC]Which equipment ?[/rougeAC]
Being sure that your products conform to ever stricter quality and environmental norms is not only mandatory, it is also an economical argument (rejected parts, rework) closely related to your corporate image.

You sell gas/air tight products... let's be sure !
You need to know their leak rate. Leak testing is a non destructive test, which is a huge asset for your production. Indeed, no part will be damaged, wetted or dirtied.
Our references : over a hundred of working equipments designed with and for our customers.

Alliance Concept commits to supply leak detection equipments matching your very needs.
Your ideas will be converted into reliable, upgradeable systems, be they :
Manual, semi-automated or fully automatic,
Single or multiple workstations,
Helium sniffing in containment area,
Parts loading and unloading using automated conveyors,
Compact test benches based on Modul'He technology for R&D and small/medium series. You can chose this price effective solution which we will adapt to your specifications (sniffing method, global test in a small vacuum chamber installed onto the main chassis or in a larger one mounted onto a dedicated frame etc.).
Operator's safety is a priority, that's why we propose a large variety of equipments to minimise the risks of injuries, from light curtains to bi-manual switch to launch the cycle to Poka-Yoke systems.

And if your products get modified or evolve ? Not a problem, our machines also !
We design our equipments so that we can upgrade them on-demand. Our design team will find THE solution.

The following industries have at least two things in common ? Which ones?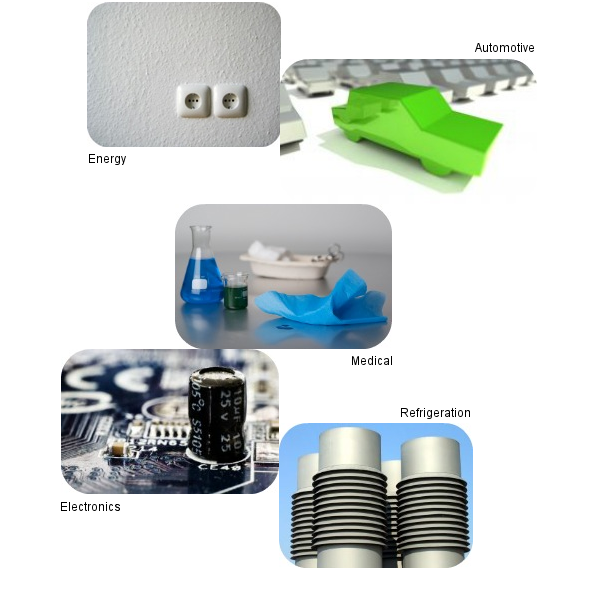 The need for leak testing technology and Alliance Concept !

[rougeAC]Available test methods[/rougeAC]
A reliable leak testing system consists in :
A tracer gas, f.i. helium : helium is one of the tiniest, after hydrogen. It can flow through the smallest defects to be detected and quantified by a detector,
A frame : depending on your needs, it can consist in an cast-iron welded frame, polycarbonate cover panels and/or aluminium structures. It supports the vacuum test chambers in which your parts will be tested (if global method is used). The most compact vacuum pumps can be set up directly onto it,
A leak detector : one of the key-part of the system, this mass spectrometer works under vacuum. Its "heart", the analyser cell is calibrated to detect specifically helium molecules (well, ionised ions) which escape from your part, if there is a leak,
Optimal operating system : touch screen to control the machine functions, additional flat screen or industrial screen for extra monitoring (Excel diagram in real time or generated at the end of the test cycle for traceability purpose), LED light column for production means, integrated traceability (printer, bar code scanning, datamatrix...),
Your spécifications : your system will be assembled to match what you really need, not what we want you to need.

Now, remains the question of which test method suits your needs best :


Global test
The global test is the method that provides the highest sensibility up to 10-10 atm.cm3/s. The working principle is as follows :
The part is loaded into a test chamber,
The part is then pressurised using helium gas,
Helium escapes through potential defects and is quantified by the mass spectrometer cell.
Semi-automated test : manual loading and unloading,
Fully automated : the equipment is integrated directly into the production main flow. Un/loading is achieved using rotary tables, conveyors, lifts, arms etc.,
Single or multiple stations : depending on your production rate.


Helium sniffing
The sniffing method helps to localise the leak(s) location. Here is how it works :
The part is pressurised with helium,
The sniffer probe is connected to the leak detector,
The operator passes the probe searching for the leaks.
The helium sniffing can be performed after the global test, prior to rework to pinpoint the location of the defect.
To avoid pollution or influence such as unwelcome drafts from the production area, a containment zone can be used. The operator will perform the leak detection inside the zone.


Pressure decay
This helium-free method is based on pressure decay measurement using pressurised air. This is suitable for gross leak detection or parts with no particular tightness requirements.

The part to be tested and the sample part are simultaneously pressurised with air,
A differential manometer monitors the pressure decay during a given time frame. The pressure decay between both parts mirrors the actual leak in the tested part.
The sensitivity of the measurement is function of the volume and is expressed by the following expression : VdP/dt avec dP/dt = 1Pa.s-1




[rougeAC]FAQ[/rougeAC]
Which products can I check using helium tracer gas technology ?
We've designed and assembled systems for parts as small as 10 mm to others measuring several meters. Whatever their dimensions, we'll build a system around your products !


The geometry of my products is very intricate, including several holes to block up. Is it doable ?
Absolutely. Based on their dimensional and geometrical characteristics, we've developed and implemented suitable plug/cap systems using actuators so that we can concentrate of the area we're interested in testing.


Characteristic variables
Sensibility of detection
Test pressure
Leaks can be detected up to
10-10 mbar.l/s (atm.cm3/s)
Typically between 0 to 200 bars
Higher pressures on demand
[grisAC]If you need more informations, see hereafter: